Hello lovelies. Long time no see, I think, but this will be the first of at least two posts from me today so you can rejoice about that. Or something.


TV shows never used to be that way - up until relatively recently, each episode basically stood alone. There would be some plotlines that carried through, but for the most part it wouldn't really matter if you missed an episode. Or if you stumbled across one while channel flipping it would be entertaining even out of order. Sitcoms and other shows still work like that, an episode of Friends or Scrubs is always going to be enjoyable. But a single episode of Lost? Not quite as enticing, and it probably won't be much fun at all if you're not an expert on Lost so you can immediately place it into a mental timeline.

So I really feel like these sort of TV shows are a completely different medium. In an episode of a sitcom or a similar "casual" show, you tell a story in half an hour or an hour. In a movie, you tell a story in a couple hours. With these sorts of TV shows, you might be telling a story in 24 hours or longer! Obviously it's a bunch of interrelated smaller stories, but they go together and a lot of times they sort of add up to one big story.

I imagine that these things will become something you'd rewatch the same way we watch movies we've already seen or reread books. Years and years from now you'll decide to rewatch Lost or Heroes or True Blood or whatever and spend a couple months running through it all.
I was just thinking...I feel like we sort of have a new medium developing in the TV marathon. In recent years there have been a ton of shows that are just made to marathon...very serial things like Lost and Heroes. Not only do they need to be watched in order with the major plot points being remembered throughout in order for them to make any sense, most people seem to find that they get way better if you marathon them. The more you treat the entire series (or a season of it) as one unit, the more addictive and compelling it is.
I already tweeted about this but I'm so freaking pissed that I have to vent here too.
Disney is planning to a 3D animation remake of Yellow Submarine.
FOR THE LOVE OF ALL THAT IS HOLY WHY WHY WHY WHY WHY WOULD YOU DO SUCH A THING. IT WAS A A PERFECTLY FANTASTICALLY FABULOUS MOVIE YOU DO NOT NEED TO REMAKE IT. AND IT IS SO ABSOLUTELY ICONIC OF THE 60S AND POP ART AND PETER MAX'S STYLE AND ALL THAT STUFF. TO REMAKE SOMETHING THAT IS THE EPITOME OF A CERTAIN STYLE IN A DIFFERENT STYLE IS JUST DISRESPECTFUL AND TRAGIC. AND FOR THE LOVE OF GOD GIVE IT A REST WITH THE 3D ANIMATION EVERYBODY IS SICK OF IT AND NOBODY WANTS TO SEE IT ANYMORE. AND WHY WOULD YOU MAKE AN ANIMATED MOVIE OF SOMETHING THAT IS ALREADY AN ANIMATED MOVIE ANYWAY IT DOESN'T MAKE SENSE.
DAMMIT DISNEY WHY ARE YOU SO COMPLETELY CLUELESS ABOUT EVERYTHING? ARE YOU SO ENGROSSED IN YOUR OWN LITTLE BUBBLE DOWN THERE THAT YOU HAVE NO IDEA WHAT ANYBODY WANTS TO SEE OR WHAT ANYBODY IS SAYING ABOUT YOU? I AM SO FREAKING SICK OF THIS.
Oh, and the kicker: it's being directed by Robert Zemeckis, the guy who did Polar Express and the upcoming remake of A Christmas Carol, using the same performance capture technique used in those two. HEY, NEWSFLASH. NOBODY LIKES YOUR PERFORMANCE CAPTURE STUFF, WE FIND IT VERY VERY CREEPY AND NOWHERE NEAR AS COOL AS YOU SEEM TO THINK IT IS.
Here's the link:
http://artsbeat.blogs.nytimes.com/2009/08/20/all-aboard-yellow-submarine-remake-in-the-works/
While I'm ranting about Disney's utter cluelessness, let me rant more about The Princess and the Frog in case I haven't ranted enough in here about it. Okay, I'm glad they're finally going back to traditional 2D hand-drawn animation. I'm glad they're going back to fairy tales. I'm glad they're finally making a movie with a black princess. But why, oh why, do they have to be so BAD at it? Firstly, some of the character designs are just awful, they're bland and uninspired and so unoriginal. The frogs, especially. They look like every other cartoon frog ever! But beyond that...
They finally have a black princess. Okay, great. But then...they named her Tiana, she's a waitress in New Orleans. Um, Disney? This is starting to be a little awkwardly stereotypical. Did they really have to give her a "black girl" name?? But oh, it gets SO MUCH WORSE because they couldn't just stick with the traditional story of the frog prince, oh no, of course not, they had to TURN TIANA INTO A FROG TOO. DISNEY, ARE YOU KIDDING ME? ARE YOU COMPLETELY UNAWARE OF WHAT YOU'RE DOING? YOU JUST TURNED YOUR FIRST BLACK PRINCESS INTO AN ANIMAL FOR THE MAJORITY OF THE MOVIE. God, where should we even start? Do we start with the fact that it feels like they didn't actually WANT a black princess so they found a way to not actually have to put the black girl on screen for most of the movie? Do we even want to go NEAR the horribly awkward implications of turning your first black lead into an ANIMAL?
I don't want this to sound worse than it is because I don't for a second think they're doing this stuff on purpose. I'm sure Disney doesn't have any racist agenda or anything. They just don't THINK!
I was reading an article about the movie and it had quotes from some Disney people. One guy said something like "We maybe didn't realize the impact of that. But we made every effort to be as sensitive as possible." (That's probably not the exact quote because I'm doing this from memory, so don't quote me on that.) Um, really? You didn't realize the IMPACT of it? HOW LONG have people been complaining about the lack of a black princess? It's hardly gone unnoticed, it seems to me it's been a pretty big deal. And when they announced this movie, everybody got so excited that they finally WOULD have one. So they just make themselves look stupid by saying they didn't realize it was a big deal. And...they made every effort to be as sensitive as possible? Oh, PLEASE.
In the same article, another guy from Disney said something along the lines of "There was a feeling that people didn't want to see 2D animation anymore." (Again, not an exact quote I'm sure.) And again...WHAT?! People have been pleading for years for a return to 2D animation, to everything that initially made us fall in love with Disney movies. NOBODY could understand WHY ON EARTH they kept churning out 3D things when we were all begging them to go back to 2D! So how oblivious do you have to be to say that you thought people didn't want to see 2D anymore?!
IT'S JUST SO FREAKING FRUSTRATING!
LET ME TELL YOU INTERNETS I AM VERY DISPLEASED
The one that's finished is pretty lumpy because I didn't use a pattern. The one that's not finished also didn't use a pattern so I'm not sure whether it'll come out right or not. It's also crocheted a little more tightly than the first one, so it's not as soft, and I really like the softness better. And I ran out of yarn. I want to make one that uses both this color yarn and the creamy color of the same thing, so I need to buy the creamy color, but if I don't undo something I'll have to buy more of the raspberry color too. But the yarn is like $6.50 a skein or something like that so I don't want to have to buy two when I've already bought one if I'm basically going to end up with one hat that I'm going to actually wear. And the hook that I'm using is a K which is 6.5 mm and for this yarn it should really be like a 9 or 10 mm one, so I should really buy that too.
SO these are my choices:
Undo the finished hat so I can use the yarn to finish off the hat that's half done.
Undo the finished hat, start over using that yarn and the correct hook and a pattern and just leave the half done one for now and potentially do something with it in the future.
Buy more yarn so I can finish the half done one without having to take anything apart.
Ugh. I'm thinking I should probably take apart the finished one and start over with that yarn. I'm probably not too likely to wear it, especially not after I have a better one that will be sort of similar. I don't wear a ton of hats anyway. But I hate to take it apart, especially since it was my first crochet project!
AUGH I cannot decide what to do with my hat and a half that I crocheted.
here
and watch the demo video. SO AWESOME.
In other news, we have a toad living in the little flower bed in front of our house, so today I decided to name him Hercules. Technically, Hercules P. Toad. The P stands for Ptolemy.
Today I discovered Ubiquity and OMG I love it soooo much. It makes me feel like I'm living in the future! If you haven't heard of it, you should go


Anyway, today I noticed that Ralph has somehow acquired a swarm of mosquitoes. They're flying all around him, biting and getting in his eyes and all over his face and everything. And he can't seem to get rid of them or kill them or anything, all he can do is kinda twitch them off when they land on his face. I feel so bad for him and I don't know what to do - how can I kill mosquitoes who are hanging around a cat if the cat won't let me near him? I don't know why he has a swarm of mosquitoes anyway. Poor guy.

In other news, I think I have successfully lost a little bit of weight. It's hard to tell because it fluctuates anyway plus I'm not consistent about what time of day I weigh myself, what clothes I'm wearing, etc. But I think I've dropped a couple pounds already. And now that I have running shoes I can actually go running and hopefully that will also help me lose some more pounds and inches.

I've been really trying to eat healthy. I'm eating a small salad for lunch most days. Sometimes I might have a few potato chips or cheetos or something with it but a lot of the time I either just have the salad or I have some fruit with it. And I'm trying to not drink soda with lunches, at least not during the week. I still drink soda with dinner, and sometimes with lunch on the weekend since everyone else is drinking soda, but on weekdays with lunch I either have water or Vitamin Water or like lemonaid or Koolaid or something. Obviously Koolaid or Vitamin Water or whatever is not a whole lot better than soda but I figure it's at least slightly better. And I'm trying to keep myself from snacking on too much unhealthy stuff. I'm basically trying to limit myself to at MOST two "unhealthy" snacks a day - cookies, candy, ice cream, whatever. And for the most part I'm keeping it to one or none of those. Usually all I have is something at night. As much as possible I'm eating healthier snacks if I feel like snacking - fruit, cheese and crackers, stuff like that.

I need to come up with some more ideas for healthy snacks. My sleep schedule is so screwed up that I'm basically eating lunch when I wake up and then I'm up for like 8 hours after dinner, so I definitely get hungry later and it's definitely in my best interest, health-wise, to eat something later, but I'm pretty bad at healthy snacking. And the stupid part is that I really don't have a sweet tooth - if I get hungry late at night, I never actually WANT cookies or candy or whatever, I want real FOOD, but the unhealthy stuff is so much easier. Part of the problem is that I feel weird about eating late at night, especially eating "real food" because it's never been something my family does. So I want stuff that requires little to no preparation because I don't want to make a lot of noise and potentially wake people up, nor do I want to dirty a bunch of dishes that will have to be washed the next day. So fruit works really well, crackers with or without cheese is easy, but beyond that I'm kinda stumped. So if anyone has any ideas for easy yummy snacky things, let me know!
I don't know if I've mentioned Ralph in here, but Ralph is a (presumably) stray cat who's been hanging around our house for a long time now. Probably like almost a year, I don't know. At first we just saw him once in a while and he's been around more and more to the point where now he's practically here more often than he's not. We put out food for him but he's a big scaredy cat and won't let anybody near him.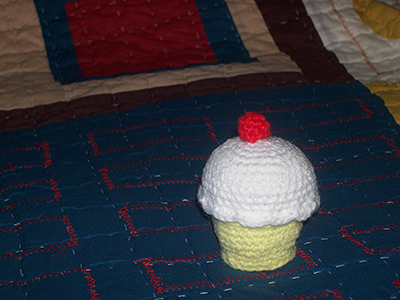 It's a little lumpy but I'm still happy with it!
Also, it occurred to me that when I posted those pictures of the cake I made they were friends only so I'm going to post them again just because I hardly ever post anything interesting that isn't f-locked.
(
so here they are!
Collapse
)
I finished that crochet cupcake a few days back and I never uploaded a picture, so here you go!
I mostly focused on Lee, Jules, and James. But I think pretty much everyone is in here somewhere. Some of the others are way more visible anyway, it's never hard to find pics of Sean or Dhan so I didn't bother with too many of them. And I just stole all of these from Getty Images.
(
Beatle kid picspam!
Collapse
)
There are tons more pics beyond what I posted so go search if you want to see more!
So after the news about Lee, I got all distracted for a while searching for pics and news of all the Beatle kids. It's been SO LONG since I looked for recent pics so there were a lot of good ones that I hadn't seen. So I thought I'd do a little Beatle kid picspam, I know at least one person will want to see these! Some are kinda old, from as far back as 2006, so there are probably some you've seen before, but whatever.